10 Tips to Help Manage Your Ho-Ho-Holiday Spending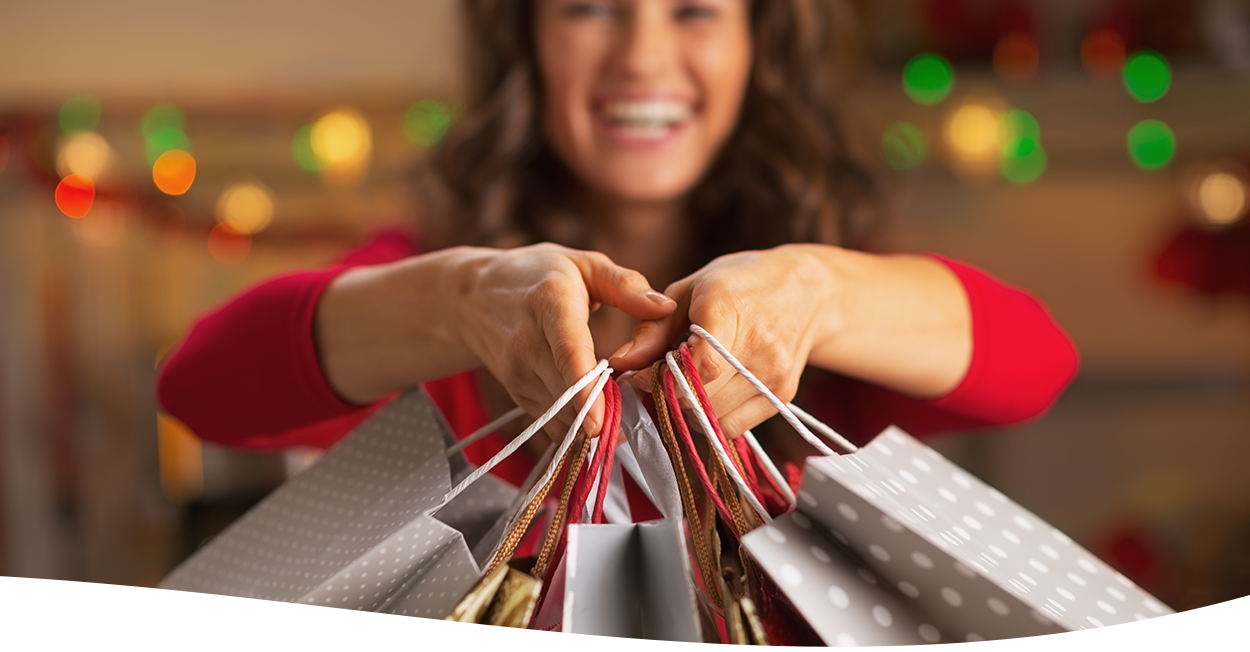 Thanksgiving has passed and the holiday season is in full swing. Between shopping for food, gifts, or planning a trip to visit family or friends you don't get to see very often, holiday anxiety may be starting to dampen your festive spirit. If you're worrying about having enough money for your holiday plans, whatever they may be, you've come to the right place. Members First Credit Union of Florida is here to lend a helping hand with ten tips to help you manage your holiday spending.
1. Create a budget.
Knowing how much you can afford to spend for holiday expenses can help you from falling into a debt spiral this holiday season. Use our Home Budget Anaylzer to help you determine how much money you'll have left to spare on gifts, entertainment, and other holiday fun, after you pay your monthly obligations. If you choose to use a credit card for your holiday spending, be sure to have a payoff plan in place avoid or limit making interest payments.
2. Make a list of giftees.
Once you've figured out your holiday budget, decide who you'd like to buy gifts for this year. Dictate how much you can spend on each individual by putting a dollar figure next to each name. Make adjustments until you have a gift budget that is doable. Taking the time to do this will help you keep your holiday spending on track and help you stay focused while shopping online or in-store.
3. Set limits.
With the rising cost of goods and services, your budget may be tighter this year. So, if you're trying to save money this holiday season, discuss setting limits on gifts with family, friends, and coworkers. You may also find that they too would appreciate spending a little less. Put a dollar limit on gifts, start a gfit exchange instead of getting gifts for everyone, contribute to a group gift, or donate your time to charity in lieu of gifts.
4. Automate your savings.
Budgeting around the holidays can be stressful but you can take some of the work out of it by setting money aside ahead of time. Automate transfers to a savings account, like Members First's Christmas Club account. To help you plan for next year, take a look at how much you spent this year to give you a realistic idea of how much money you'll need to save. Take that number and divide it by twelve to determine how much you'll need to save each month. Then set up a direct deposit on payday to go towards your holiday savings. When it's time to start shopping next year, you'll have the money you need for your holiday expenses.
5. Shop smart.
Another strategy that could help save you time and money during the holidays, is shopping early or little-by-little throughout the year. Have a clear picture of what you'd like to get for your loved ones and start looking around to find the best price. If you're shopping online, don't forget to figure in shipping costs. If you're shopping in-store, price check before your make your purchases. Many stores will price-match if you find a better deal elsewhere, saving you money and an extra trip to another store.
6. Take advantage of your credit card rewards.
The holidays are the perfect time to both earn and use your credit card rewards. While you're shopping the sales, consider using your rewards credit card to earn points towards cash back, merchandise, and more. With your Members First credit card, you can even redeem your points at checkout to help pay for a part of your purchase at CVS®, Walgreens®, Walmart®, or for qualifying online purchases at millions of Paypal® merchants globally. Additionally, if you're traveling, you can redeem rewards to help save on fuel purchases by using your Members First credit card at the pump at participating Murphy USA®, Amoco®, BP®, Shell®, and CITGO® stations.

7. Track your spending.
However you choose to spend during the holidays, it's important to keep track of how much money you're spending, where you're spending money at, and who you're spending money on. Pay close attention to your daily charges and statements. Review account history or set alerts and notifications for transactions on your Members First savings or checking account(s) within Internet Banking or on our Mobile Banking app. You can also easily manage your Members First debit card by viewing transactions, setting spending limits, and more with CardValet®. And, with SecurLOCK™ Equip, you can take control of your Members First credit card to receive real-time alerts for all card activity, limit card activity by location, set spending limits, and more directly from your smartphone.
8. Get creative.
Getting crafty could save you money during the holidays. Delicious baked treats and other homemade gifts are personal, unique, and sure to be appreciated.
9. Consider gift cards.
Have you ever noticed that once you start shopping, it's hard to stop? Researchers have found that it's much easier to continue spending once you've started — it's called the shopping momentum effect. Having a shopping list and keeping to it can help you from making impulse purchases. Or, you can skip the shopping experience altogether and also save yourself a bit of time during the holidays by getting gift cards. Visa gift cards are available at all Members First branch locations in amounts from $10 - $1,000 and can be used anywhere Visa debit cards are accepted throughout the United States.
10. Consider a personal loan.
If your holiday savings or budget doesn't quite meet your needs, a personal loan may be right for you. Getting a personal loan like a Holiday Loan or Lifestyle Loan, enables you have the funds you need now while making monthly payments throughout the year. When applying for a loan, it's always important to crunch the numbers first or speak with a financial representative to see how much you can afford so you can stay within your monthly budget and pay down your debt quickly.
---
---
RESOURCES
« Return to "Blog"
Go to main navigation