Debit Cards
IT'S CONVENIENCE IN A CARD.
A Visa® Debit Card comes in very handy for everyday purchases at places like grocery stores and gas stations, or even when you're shopping online. We understand how convenient these cards can be for our members, so we make a Visa Debit Card available FREE when you open a Members First Checking Account. The card can be used anywhere Visa Debit Cards are accepted.
Your card draws funds directly from your Members First Checking Account, so you won't need to carry cash, write a check or pay the interest that comes with a credit card. If you do decide that you need some cash, you can also use your Visa Debit Card to withdraw from an ATM.
Each Visa Debit Card has a built-in security measure, a unique PIN that will need to be entered at checkout. Please do not share your PIN with anyone.
All purchases will appear on your Checking Account statement so you can easily keep track.
If you have any questions about your Visa Debit Card from Members First, please feel free to call the Credit Union Information Center at (850) 434-2211 or toll-free at (877) 434-MFCU (6328).
Our cards are also issued with the extra protection of EMV chips.
LOST/STOLEN DEBIT CARD? Call (800) 472-3272.
As part of your Members First Digital Wallet experience, you can also add your Debit Card to Apple Pay™, Android Pay™, Samsung Pay® or Visa® Checkout.
YOU MAY ALSO BE INTERESTED IN OUR SAVEUP PROGRAM.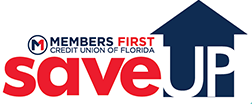 The SaveUP program is the perfect way for you to save as you go. Each time you make a purchase using your debit card, automatically add your change to the Members First savings account of your choice*. We will round up every debit card transaction to the next whole dollar and the extra funds are transferred nightly for the previous day's transactions. Now you're saving! Find out more by clicking here. Enroll today by stopping by one of our locations or speaking with a Call Center Representative at (877) 434-6328 or locally at (850) 434-2211.
*If, on a business day, you do not have the sufficient available funds in your checking account, or if any transaction has overdrawn your checking account, we do not round up the purchases posted on that business day and we cancel the transfer for that day. If your Members First Debit Card purchase is subsequently cancelled or reversed, the corresponding SaveUp savings round-up transfer will remain in your savings account.
Go to main navigation