Checking With Benefits
MEMBERS FIRST HAS THE RIGHT CHECKING ACCOUNT FOR YOU.
Members First Credit Union of Florida offers plenty of options when it comes to choosing your checking account. Each option comes with its own perks, so you can't go wrong. That's because we make it a point to always provide our members with free features like a Debit Card, Direct Deposit, 24-Hour Mobile Banking, Mobile Check Deposit, and many other benefits.

Checking Account Options

Browse our checking accounts below to find a checking to fit your needs. Click on the type of account or scroll down to learn more. If you have any questions or would like help choosing the best checking account for you, please stop by one of our locations or contact us. We'll be glad to help.

Type of Account
Minimum Deposit to Open
Minimum Balance to Earn Dividends
Maintenance Fee
Debit Card
Courtesy Pay
Regular Checking
$0.00
N/A
$0.00
Free
Upon Approval
Select Checking
$1,000
$1,000
$0.00*
Free
Upon Approval
Second Chance Checking
$0.00
N/A
$12.00/month
Free**
N/A
Community Checking
$0.00
N/A
$0.00
Free
Upon Approval

* Free with $1,000 balance. If balance is lower than $1,000 there will be a $10/month maintenance fee.

** ATM privileges limited to $500 online and $100 offline.
For your everyday purchases and deposits, our Regular Checking account is the answer. We've included all the great features that make it easy and convenient for you. Open a Regular Checking account today to experience the personal difference only Members First can provide.
Members First invites you to earn more by opening a Select Checking account. When you do, you'll get all of the benefits of our Regular Checking AND you'll be paid monthly dividends based on your account's average daily balance. To see the current rates on the checking account that gives you something extra, click hereTo see the current rates on the checking account that gives you something extra.
At Members First, we realize nobody is perfect and sometimes your credit score takes a hit. Our Second Chance Checking account* gives you just that… a second chance to start fresh with a checking account from the Credit Union you can trust. If you've been unable to open an account due to a ChexSystems report, please see one of our friendly Financial Services Representatives today to apply for a Second Chance Checking account.*
* Subject to approval. Offer extended to members in ChexSystems due to Non-Sufficient Funds (NSF) activity only. Member's account must have been paid for at least 90 days before Second Chance Checking will be approved. Member may request a Regular Checking account after 12 successful months with no NSFs or overdrafts on the account.

We always enjoy hearing about the important role our members play in building and maintaining our beautiful communities. So Members First Credit Union of Florida provides a Community Checking account* that makes it easy to keep your non-profit group's finances in order.
* Must be a non-profit group in Escambia, Santa Rosa or Okaloosa counties. Must maintain a minimum share balance of $5.00. Please call (850) 434-2211 for complete details.
compare checking account options SEE OUR RATES
YOU MAY ALSO BE INTERESTED IN OUR SAVEUP PROGRAM.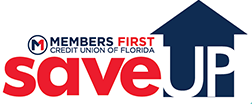 The SaveUp program is the perfect way for you to save as you go. Each time you make a purchase using your debit card, automatically add your change to the Members First savings account of your choice*. We will round up every debit card transaction to the next whole dollar and the extra funds are transferred nightly for the previous day's transactions. Now you're saving! Find out more by clicking here. Enroll today by stopping by one of our locations or speaking with a Call Center Representative at (877) 434-6328 or locally at (850) 434-2211.
*If, on a business day, you do not have the sufficient available funds in your checking account, or if any transaction has overdrawn your checking account, we do not round up the purchases posted on that business day and we cancel the transfer for that day. If your Members First Debit Card purchase is subsequently cancelled or reversed, the corresponding SaveUp savings round-up transfer will remain in your savings account.
With a checking account at Members First comes a certain advantage. All our checking accounts include the following benefits:
FREE Debit Card
One FREE Official Check Per Day*
Coin Counting** - FREE for any amount under $100
* Standard fees will apply for additional official checks each day. Free Official Check offers cannot be combined.
** The fee for coin counting machine use is 8% for any amount over $100, for consumers. For business accounts, the fee is 8% of the entire amount. For all non-members, the fee is 20% of the entire amount.
For further information on all Credit Union deposit accounts, please refer to our Membership and Account Agreement Opens a New Window. for Terms and Conditions, Electronic Transfers, Funds Availability, Funds Transfers and Truth In Savings. Please also see our Schedule of Fees Opens a New Window.
Go to main navigation