Home
> Using Your Credit Card Responsibly
Using Your Credit Card Responsibly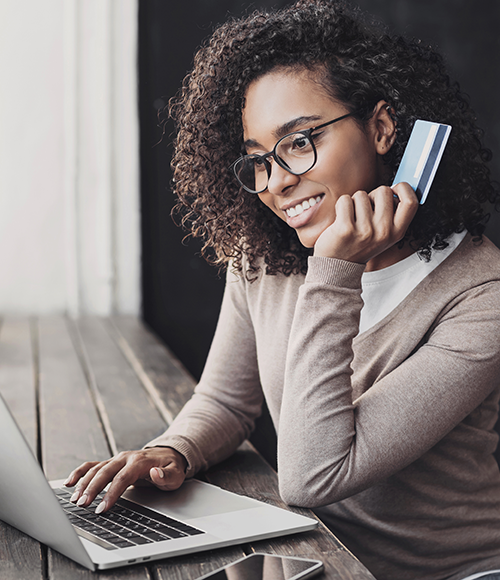 You've likely heard horror stories and all the reasons why you should not use a credit card. The high interest rates or the large balance(s) that you can't pay down that just keep building over-time creating a sinking hole of expenses and debt that you just keep falling deeper and deeper into. Like with any financial tools, your experience with credit cards (good and/or bad), is based on how you use them. If you use a credit card responsibly, it can help you boost your credit score and open the door to lower interest rates and more favorable terms on larger purchases like a new car or new home. We're sharing how to use your credit card responsibly so you can build your credit and spend smartly.
1. Create a budget and stick to it.
The first step to building or rebuilding your credit is to map out a plan. Start by adding up your monthly income and subtract all necessary expenses. Whatever you have left over should go towards debts, savings, and then the fun stuff.
Reevaluate your budget after a few months to see what's working and what's not and make adjustments as needed. This could mean eating out less, working out at home instead of at a gym, or cutting some subscriptions (For example: If you pay for Hulu and Netflix, get rid of one of them).
Keep doing this until you find a budget that works for you. It might seem hard to stick to your budget, but you'll be glad you did. Sticking to your budget will give you the ability to know exactly where your money is going instead of constantly working to play catch-up and trying to stretch your income to impossible lengths.
2. Pay more than just your minimum payment each month.
If you can, pay off the balance in full. Comb through your credit card statements and find out when the minimum payments are due. Add reminders to your calendars or set up Bill Pay to make automatic payments. Even if you're just paying an amount that is slightly more than the minimum, you're actively combatting interest and therefore saving money.
3. Know your spending habits and use it to your advantage.
If you've had issues in the past or know that you can't control swiping or racking up purchases on your credit and/or debit cards, don't use your credit card for everyday expenses. Keep a credit card for purchases here-and-there and pay off the balance once your bill is due. If you have good control over your spending, using your credit card for everyday expenses to build up rewards points can be a good idea — as long as you remember to pay the balance in full when your bill is due.
4. Use less than 30% of your credit limit.
Credit cards can be closed due to inactivity. To keep your credit card account active, use it to pay for gas or a small recurring payment. On the flip side, maxing out your credit is never a good idea. Maxing out your credit lowers your credit score and tells lenders or landlords that you're risky because you're maxing out your borrowing capacity.
5. Avoid taking out cash advances on your credit card.
Interest rates on cash advances can be incredibly hefty and most issuers charge interest on them immediately. You'll also have to pay a fee any time you use your credit card to get a cash advance. If you need a bit of cash to get you through, consider other options — sell unused items, pick up extra work, consider taking out a small personal loan, or speak with a financial representative about the best solution for your needs.
6. Check your credit card statement each month.
Whether you check your statement online or prefer looking at paper statements mailed to you, always read your statement and any messages from your credit union or credit card issuer. Keep an eye out for when your minimum payment is due and look for any errors that could result in an overpayment.
7. Maximize your rewards.
To maximize your credit card rewards, pay your balance in full each month. If you're consistently paying tons of money in interest, are you really earning rewards? If you have a Members First Credit Union of Florida credit card, you're all set to earn rewards. Register your card at scorecardrewards.com to redeem and manage your points. Once you're registered, you'll also receive special offers for double points or extra points for shopping at particular sites or stores by mail or within the scorecardrewards.com portal. Most promotions have to be opted into so look out for these special offers within the portal before they expire.
8. Don't let your rewards points expire.
Some credit card rewards points expire, depending on the terms of your card. Know when your points are set to expire and use them before the expiration date. Some rewards programs will even let you apply part of your rewards points to pay down your credit card balance. Remember to still make the minimum payment on your credit card if you're doing this, as applying points to your card's balance usually does not count as a card payment, but rather just a credit to the card's balance.
9. Read the fine print.
We know you get a lot of mail in your mailbox and by email, but it's always a good idea to read every letter you receive from your credit card company or financial institution. Doing this will make sure that you're not missing a payment or a change in terms (like an updated fee or change in the card's grace period). Keep customer service phone numbers nearby or know where to find them in case you have any questions or concerns.
Get A Credit Card That Pays
Members First Credit Union of Florida has rewarding Visa® credit card options with low, competitive rates.
Check Out Our Credit Card
Features and Benefits.
Ready to Get Started?
Consult With a MFCUFL
Financial Representative.
Call (850) 434-2211 & Select
Option 2 or Find a Branch
Near You.
---
---
RESOURCES
APR = Annual Percentage Rate. Rates and terms are based on individual credit worthiness. The method of computing finance charges (or interest) for purchases (including new purchase) is based on the Average Daily Balance. Rates are subject to change without notice. For our complete credit card disclosure, click here.
« Return to "Blog"
Go to main navigation