Home
> Kids and Online Security
Kids and Online Security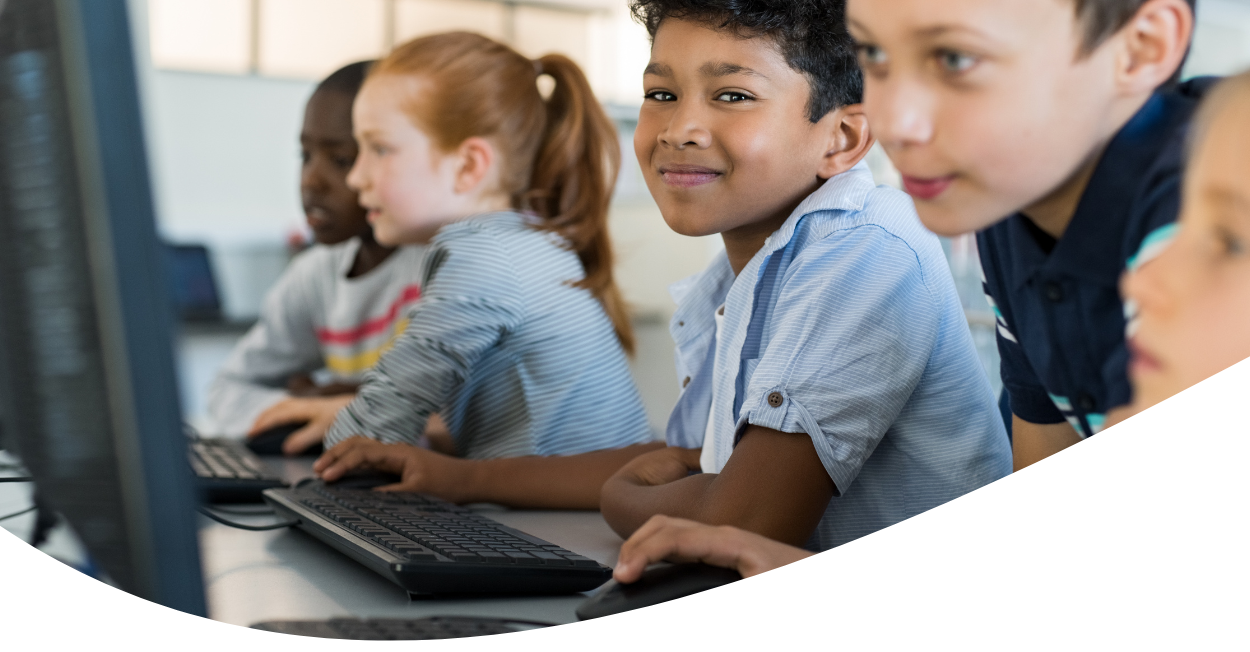 With smart phones, tablets, and computers readily available, children are exposed to technology that could potentially affect the safety of their online experience and yours. Whether at home or school, if your child has access to any of these devices, it's important to talk to them about online security. We're sharing safety tips and lessons you can share with your child to help protect your devices and family's personal information.
Guard Personal Information
Social Security numbers (SSN), account numbers, and passwords are examples of information to keep private. In addition, you should teach your child to think before they share other personal details online. It seems innocent enough and all in good fun; but tagging themselves at a specific location; sharing family vacation photos while no one is at home; and photos with them holding their first passport, paycheck, debit card or credit card, or a birthday/graduation check from grandma; are security risks.
Be Cautious of "Free" Stuff
Free games, game mods, ringtones, fonts, or other downloads can hide malware. Tell your kids not to download anything unless it comes from a trusted source and they've scanned it with reputable security software.
Use Strong Passwords
Using strong passwords for their accounts online is important to keeping personal information safe. The longer a password, the harder it is to crack. Personal information, any/all parts of your login name, common words, or adjacent keys on the keyboard are not safe passwords. You should also stress that writing down their passwords or sharing their passwords with anyone (including their friends) can leave them vulnerable.
Avoid Public Wi-Fi Networks
Connecting to an unknown or public Wi-Fi network could compromise their security. Share that if they decide to do it anyway, they should protect their device with an updated antivirus program and use a VPN.
Beware of Phishing
Scam artists send fake texts, emails, or pop-up messages to get people to share their personal and financial information in an effort to commit identity theft. It's important that you teach your child not to click on links or reply to unsolicited text, email, personal messages, or pop-up messages especially if it asks for personal or financial information. They should be cautious about opening attachments or downloading files from emails they receive, regardless of who sent them. Unexpected files may contain malware.
Use Caution When Using P2P
It's not uncommon for kids to share music, games, or software online. Peer-to-peer (P2P) file-sharing allows people to share files through an informal network of computers running the same software, but there are risks involved. If they're not careful, they could accidentally provide strangers with access to private files. Also, if your child downloads copyrighted material, you could end up tangled in legal issues. Additionally, they could unknowingly download a file containing spyware, malware, or pornography.
If you or your child use a P2P program, it's important to keep your security software up-to-date and use it to scan any files before they're opened or played. Avoid any P2P program that asks you to disable or change settings to your computer's firewall. Disabling or changing these settings could weaken your device's security.
Not All Apps Are Safe
Do you or your kids download apps to a phone, browser, or social networking page? Before downloading new apps, it's important to do a little research. Check out the reviews and only download apps from your device's official app store to reduce the risk of installing potentially harmful apps. You should also suggest your kids check the app's privacy policy and privacy settings on their device to see what information the app can access. Downloading an app may give the app's developers access to personal information that's unrelated to the purpose of the app. That information may then be shared with marketers and other companies. Here are more tips on how you can protect your privacy on apps from the Federal Trade Commission (FTC).
---
In addition to the online security tips above, it's important to protect your devices with reputable security software. You should also follow these basic security practices recommended by the FTC.
---
---
RESOURCES
« Return to "Blog"
Go to main navigation