Home
> Protect Yourself from Phone Scams and Vishing
Protect Yourself from Phone Scams and Vishing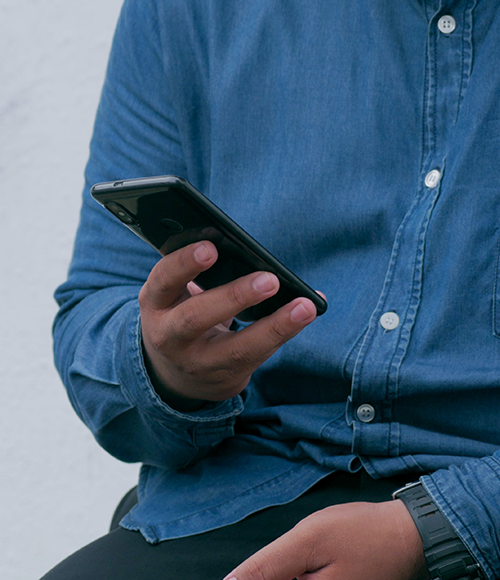 What Do You Do When Your Phone Rings?
If you immediately answer your phone whether you recognize who is calling or not, you aren't alone. In today's world, the chances of the person on the other end being a scammer looking to trick you into giving out your personal information, are good. And, even if you think you know who is calling, you may be mistaken. Don't be fooled by what you see on your caller ID since many scammers are able to make it look like a call is coming from a government agency, a well-known company (like Amazon, Google, or Apple), and even your financial institution.
What is Vishing?
Vishing or voice phishing involves scammers or fraudsters calling you on your phone and phishing (fishing) for information. This malicious practice has become so widespread that experts are calling it an epidemic and predict that vishing calls will make up almost half of all cell phone calls in the near future.
How Does Vishing Work?
Vishing is a new twist on an old trick, but now it's coming to your cell phone. These fraudsters impersonate government officials, credit card companies, financial institutions, charities, or call you with offers that are too good to be true. Vishers will try to pressure you into acting right away to avoid punishment or missing out on something amazing.
To confuse you even further, some fraudsters will spoof phone numbers from your area code and may have a number that is similar to your own. Some even fake Caller ID profiles (also called spoofing) so you think taking the call is safe. If you don't answer, they may leave messages that are worded in a way that will get you to call them back. Messages like "Your account has been compromised. Call us to reset your password" have proven to be very successful.
All this is done to catch you off guard and get you to share your personal information like:
Credit card information

For example: Your Account Number, CVV (Card Verification Value), or PIN

Credit union or bank information

For example: Your Account Number or Passcodes

Date of Birth

Social Security Number
Once the scammer has this information, they can steal your money, identity, or both. That's why knowing how to spot a scam and being vigilant in protecting yourself and your personal information is so important.
Spotting the Signs
Many vishing calls follow a similar pattern—getting you to agree to the caller's "terms" on the spot. Because these callers don't want you to think too hard about what they're asking, they create a sense of urgency in an attempt to convince you to act immediately. The Federal Trade Commission (FTC) and others have identified several common red flags:
Some callers might say you were "selected" for an offer or that you've won a lottery. But if you have to pay to get the prize, it's not a prize.

Example: You have to pay shipping and handling (or a small fee) to receive your prize.

Scammers may ask you to download an app so they can "troubleshoot" a problem. This if often done if the scammer is impersonating a company like Amazon, Google, or Apple.

Scammers might pretend to be law enforcement or a federal agency. They might say you'll be arrested, fined, or deported if you don't pay taxes or some type of debt right away. The goal is to scare you into paying. But real law enforcement and federal agencies won't call and threaten you.

Scammers will often ask you to pay in a way that makes it hard for you to get your money back — by wiring money, putting money on a gift card, prepaid card or cash reload card, or using a money transfer app. Be wary of anyone who asks you to make payments this way.

Don't think you need to decide right away for "special offers". Most legitimate businesses will give you time to think about offers and get written information about it before asking you to commit.

Government agencies and your financial institution won't call you to confirm personal, sensitive information. Regardless of who the caller claims to be, it is never a good idea to give out personal information like your SSN or PIN.
If you get any calls like this, your best defense is to hang up and report the call to the FTC.
How to Protect Yourself
There are some easy steps you can take to protect yourself from malicious activity:
Never feel pressured to give information over the phone. Keep your personal information and passcodes private and never give it out during an unsolicited phone call.

Don't download "troubleshooting" apps, because they'll allow the fraudster to take over your device.

If you think the call may be from your financial institution, insurance, or credit card company, find their phone number on your statement or card and call that number to verify.

Educate yourself about common scam practices.

Use call-blocking tools. Some phone providers and many smartphones have tools that will allow you to block calls from undesirable numbers. If you get a scam call, block the number.
Protecting Your Members First Account Information
Phone scams are on the rise and they are more likely to reach your cell phone than you think. Here are some steps you can take to protect your Members First Account and avoid falling victim to a phone or voice phishing fraud:
Never give out personal, sensitive information over the phone, especially if the call is unsolicited.
Members First Credit Union of Florida will never call you asking for your PIN or Social Security Number — especially on an automated call or fraud alert.
Scammers may call you impersonating your credit union. Some scammers even have fake Caller ID profiles so you think the call is legitimate. If you are unsure the call is authentic, hang up.
Use the number on your statement or on the back of your debit or credit card to call and verify any calls you think may be suspicious.
If you suspect you're a victim of fraud or identity theft, let your credit union know. Give us a call at (850) 434-2211.
If you suspect your debit or credit card have been compromised, download the CardValet app for debit cards or the SecurLOCK Equip app for credit cards to lock your card, then give us call at (850) 434-2211 to report any suspicious activity.
---
« Return to "Blog"
Go to main navigation