Home
> A Sweet 16 Credit Report: Protecting Your Child From Identity Theft
A Sweet 16 Credit Report: Protecting Your Child From Identity Theft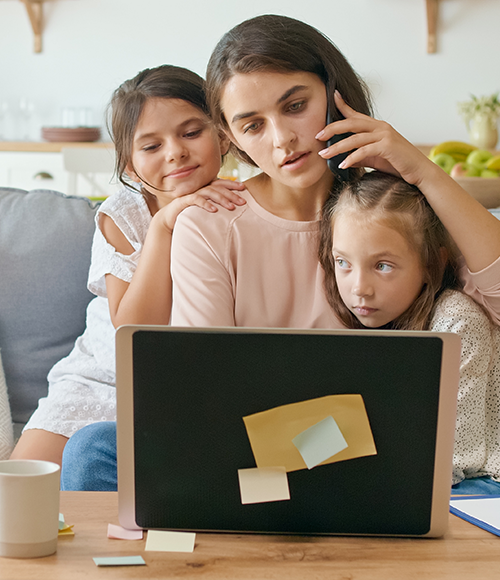 Turning 16 is a big deal to most teens. It's a milestone for a reason, because it marks a time of growth and expansion of your child's freedom — getting their first job, learning to drive, preparing for college or trade school — to name a few. The Federal Trade Commission (FTC) also recommends closely checking your child's credit report at 16.
But Why?
Typically, only people over the age of 18 have a credit score — however, it is possible for a minor to have a credit report. A person under 18 can have a credit report if:
An adult added the minor as an authorized user/signer or opened a joint credit account in the minor's name

A credit agency mistakenly created a credit profile in your child's name

Their identity was stolen and used to open one or more credit accounts
More Whys...
Unfortunately, children are vulnerable to identity theft because no one expects them to be targets. Criminals find stealing a child's identity tempting because it not only offers a clean slate, but it's likely the fraud will go undetected for a long time. Your child does not need to have a line of credit or checking account to be a victim of fraud. If a fraudster obtains your child's Social Security number (SSN), they can use it to create fake addresses and bank accounts in your child's name, before ultimately borrowing money (credit cards, loans, utility service accounts, etc.), and then disappearing, leaving unpaid bills, and your child's credit history in shambles.

Did you know? Stolen information can also be used to apply for government benefits like health care coverage or nutrition assistance or to file taxes to obtain a tax refund.

Identity theft can be damaging for anyone, but it's especially challenging for young adults. A damaged credit report can prevent your child from getting the healthy start they need in their adult life, making it difficult for them to qualify for credit cards, auto loans, home loans, and even a job — since some companies check credit as part of the hiring process. There is a light at the end of the tunnel, however. Checking your child's credit report can help you identify false or inaccurate information early on and give you time to dispute errors, report signs of identity theft, and repair any damage that has been done.
How to Check Your Child's Credit Report:
The process of checking your child's credit report may vary depending on your child's age and the credit bureau (Equifax®, Experian®, and TransUnion®). Contact any or all of the three nationwide credit reporting companies and ask for a manual search of your child's Social Security number. You may also have to give the credit bureaus a copy of:
Your driver's license or other government-issued ID

Proof of your address like a utility bill, credit card statement, or insurance statement

Your child's birth certificate

Your child's Social Security card

Proof of legal guardianship (if you are not the child's parent)



Tip: You are entitled to a free credit report every 12 months from each of the three major credit bureaus. You can request a copy at annualcreditreport.com. You can choose to request all three reports at one time, but it may be beneficial to request reports separately — so you can monitor the credit report more frequently throughout the year.

If your child doesn't have a credit report on file, the credit bureau will confirm that. Even if your child doesn't have a credit report now, you should continue to request one from each of the national bureaus at least once a year to make sure none was created under false pretenses.
Prevention and How It Can Be a Teachable Moment:
The best way to fight fraud is before it happens. Here's what you can do to protect your child from identity theft:
Ask questions before giving out sensitive information like your child's Social Security number. If your child's school asks for your child's SSN, ask these questions:

Why do you need it?

How will you protect it?

Can you use a different identifier?

Can you use just the last four digits of the Social Security number?

Protect documents with sensitive or personal information. If you have documents with your child's personal information, like medical bills or their Social Security card, keep them in a safe place, like a locked fireproof file cabinet or Safe Deposit Box.
Shred documents with personal information that you don't need anymore

— before you throw them in the trash. If you don't have a shredder, look out for a local shred day at your credit union or at another reputable source.

Delete personal information before disposing, selling, or giving away an old computer or cell phone. Your computer or cell phone might contain personal information about you or your child that you'll want to delete before you get rid of it.
While fraud and identity theft are not easy or fun to discuss, use checking your child's credit report as a chance to teach them about finances. Begin a discussion about credit, and how to use it properly. Talk to them about fraud and identity prevention. Helping your child lay a strong foundation now will only help them in the future to make smart financial decisions.
What to Do if Your Child Is a Victim of Fraud or Identity Theft:
If you find that your child has false or incorrect information on their credit report:
Report it immediately. The FTC has established a website dedicated to identity-theft prevention and recovery.

Contact the companies where fraud happened.

Make a note of when you call and the name of each person you speak to. Explain that the account holder is a minor whose identity was stolen and ask for the account to be closed.

Ask for written confirmation that states your child isn't responsible for the fraudulent account(s).

Follow up with a letter and recap the situation. Include a copy of your child's birth certificate and a signed Uniform Minor's Status Declaration obtained from the FTC.

If necessary, apply fraud alerts or credit freezes (also known as a security freeze) with the national credit bureaus

—

Equifax®, Experian®, and TransUnion®.

Placing a fraud alert with the credit bureaus will notify creditors that the credit report they are requesting is for a minor who may be a victim of identity theft. Fraud alerts will remain on your child's credit report for 12 months. Usually once you place a fraud alert with a credit bureau, they will share the alert with the other bureaus, but it is always good to contact each individual bureau to be certain the alert is in place.

Placing a credit or security freeze on your child's credit file will prevent the opening of any new accounts or processing of any credit applications indefinitely

— until you ask for the freeze to be removed

. It's important to remember that reports will need to be unfrozen before your child applies for credit in the future or submits an application that may require a credit check, like applying for a job, apartment rental, or securing a cell phone contract. Minors who are 16 or 17 can request and remove a credit or security freeze themselves.

Follow up if you have not received confirmation. Make sure creditors or companies have closed any accounts set up in your child's name and that each credit bureau has removed false activity from your child's credit report. Insist on and retain proof that each account has been closed.

Create a file or folder to store all correspondence, documentation, and notes you've made from your contact with the credit bureaus, creditors, and companies where fraud has occurred and store the information in a secure location. You may need to refer to it in the future.

For example: If you place a credit freeze on your child's account, you'll most likely receive a confirmation number or must create a PIN or password. You'll need this information when you or your child remove or lift the freeze in the future.
---
---
RESOURCES
« Return to "Blog"
Go to main navigation