Spend Smart: Learn About Checking Accounts and Debit Cards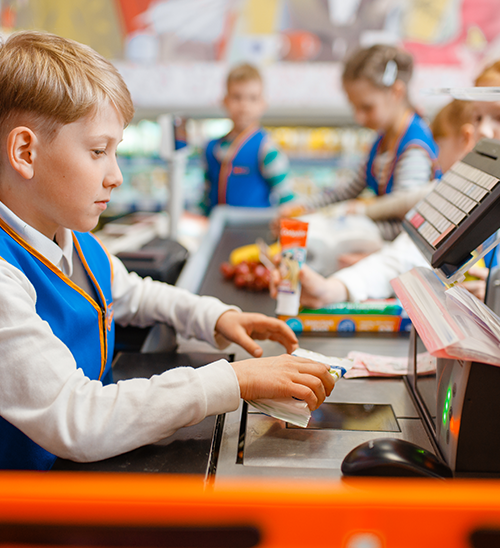 You probably already know that credit unions are a great place to start if you want to save money. But, did you know that credit unions aren't just for Savings Accounts? Credit unions, like Members First Credit Union of Florida, offer other services to help their members financially. One of these services is called a Checking Account.
When you're older, you can open a checking account. People under the age of 18 must have a parent or guardian with them on their checking account. Having someone else on your checking account with you means they are joint or a joint owner of the checking account. That means, they have access to any money in the checking account. But, what does a checking account do? A checking account allows people to put money into the credit union to use for making purchases without cash.

Example: Your mom or dad might use a Debit Card or Check to buy groceries at the store.
Debit Card: A debit card is a card issued by your bank or credit union. The card is linked to your checking account and can be used to make purchases.

Check: A check is a piece of paper that stands for money you have in your credit union account.
Even though you don't see any cash involved, when your mom or dad pays with a debit card or check at the grocery store, they are using money that is in their checking account to pay for the food or other items they purchased.

An important thing to remember when you open your first checking account as a teen or adult is to never swipe your debit card or write a check if you don't have enough money in your checking account. Always keep track of the money you deposit to your checking account and the money that you spend or withdraw from your checking account. If you try and spend money you don't have in your checking account, your purchase will likely be declined, or you will be charged a fee (added cost/charge) for not having money in your checking account.
---
---
RESOURCES
« Return to "Youth"
Go to main navigation