Home
> What is a Secured Credit Card?
What is a Secured Credit Card?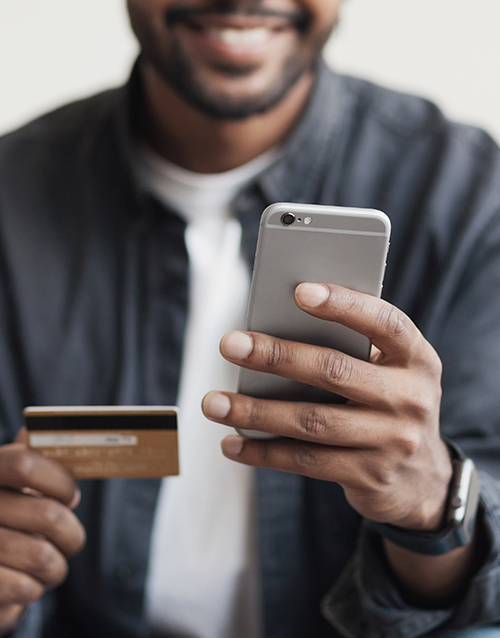 If you have no experience, limited experience, or have had less-than-perfect credit in the past, you may think that you're out of luck when it comes to credit card issuers. The good news is, you're not! The solution to your problem could be a secured credit card. What's a secured credit card, how does it work, and how can you get one? Let's find out.
What is a Secured Credit Card?
Secured credit cards are a great credit-building tool that can help you lay a solid foundation for your credit history or help you rebuild layers that have chipped away at your score from past mistakes. Secured credit cards work just like unsecured credit cards, but they're tied to a refundable security deposit that you, the borrower, pays. The deposit acts as collateral and equates to the credit line limit for the card. Meaning, if you deposit $500, you'll have a $500 limit on your secured credit card.
What Are the Benefits of a Secured Credit Card?
If you have poor credit or no credit at all, a secured credit card enables you to make a fresh start towards building a good credit history and score. Another benefit is, your secured credit card is equipped with fraud monitoring and protection. Also, with a Members First secured credit card, you'll earn points on purchases that can be redeemed for purchases made at CVS®, Walgreens®, Walmart®, participating gas stations, and more, all while establishing or rebuilding your credit.
How Does a Secured Credit Card Work?
Once you have your secured credit card, you can use it like a traditional credit card. Make purchases in store, online, or with digital wallet services like Apple Pay®, Android Pay®, and Samsung Pay®. Once you've established a history of good credit by using your secured credit card responsibly and making timely payments, your card may be upgraded to an unsecured card, and your security deposit is released.
Building Credit History With a Secured Credit Card
Two of the most important factors that make up your credit score are your payment history and your credit utilization or capacity. Other factors include length of credit, mix/types of credit, and new credit. Using your secured credit card regularly and making on-time payments every month will help you establish credit history due to your payment history. While making your payments, keep in mind that if you carry a revolving balance — meaning you pay a partial amount one month and carry the remaining balance to the next billing cycle — you'll start to accrue interest. To avoid raising any red flags, it is a good rule of thumb to use less than 30% of your credit limit each month to show you're a responsible credit card holder.
How Can You Get a Secured Credit Card?
To find the best option for you, speak with a Members First representative. We typically recommend making a security deposit of at least $500 but based on your budget, the amount may be lower or higher. Once you're approved, you'll be issued a Members First secured credit with a credit limit equal to your security deposit.
How Can You Move From a Secured Credit Card to an Unsecured Credit Card?
The goal of using a secured credit card is to improve your credit score so that you're able to qualify for a regular, non-secured credit card. Making on-time payments every month and keeping your credit utilization low, will help you achieve the credit score you desire. Once you've done that and paid off any remaining balance on your unsecured credit card, reach out to a Members First representative to go over the steps you'll need to take to apply for an unsecured credit card.
We'll Lend A Helping Hand
Freshen up your finances. Build or re-build your credit with our fresh start options.
Here at Members First Credit Union of Florida, we're always ready to lend a hand to our members. Whether you're just starting off and have little to no credit or have hit a few bumps in the road and have damaged credit that you need to rebuild, we'll help you take control of your credit to give you the fresh start that you need. Learn about our secured credit card or credit builder loan or speak with one of our financial representatives today and start reaching your goals.
Secured Credit Cards


Ready to Get Started?
Credit Builder Loan


Ready to Get Started?
---
---
RESOURCES
APR = Annual Percentage Rate. Rates and terms are based on individual credit worthiness. The method of computing finance charges (or interest) for purchases (including new purchase) is based on the Average Daily Balance. Rates are subject to change without notice. For our complete credit card disclosure, click here.
« Return to "Blog"
Go to main navigation