Home
> 3 Things You Need to Know When Using a Rewards Credit Card for Travel
3 Things You Need to Know When Using a Rewards Credit Card for Travel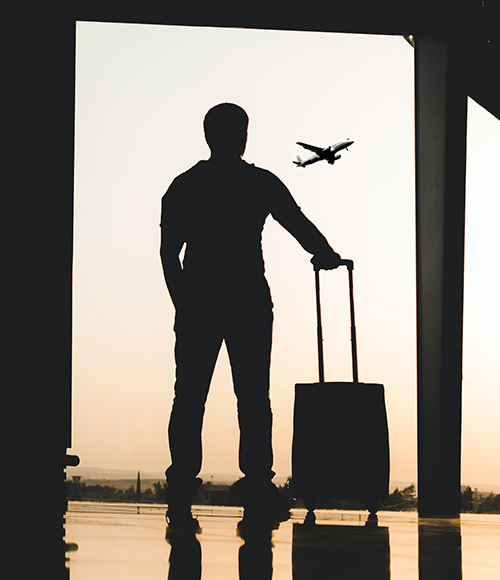 There is so much to explore, whether you're traveling to one of the United States' 50 states or territories or, you're learning about a different country by tasting the food, sightseeing, and talking to the locals. If you're planning a trip and thinking about racking up credit card reward points for your upcoming trip, you should consider a few things:
What Are the Card Program Details?
Does the card come with annual fees? Are there blackout dates or restrictions on travel? Does the value of your reward points differ if you use them for travel, cash back, or other types of incentives? Every rewards credit card is different and depending on your goals, one card may be better than another. With a Members First credit card, you'll earn 1 point for every $1 spent that can be redeemed for travel and so much more. If you're hitting the road, you can save up to $10 for gas purchases at participating Murphy USA®, Amoco®, BP®, Shell®, and CITGO® stations. Making a pit-stop for snacks or toiletries? Pay with your rewards points at Walgreens® and CVS®.
Does the Credit Card Offer a Low APR?
Having a low Annual Percentage Rate or APR on your credit card is important. While it's ideal to pay off your balance each month, it's not always possible. And, since most people carry a balance on their credit card, it's important to secure a payment card with a low APR so you aren't paying for your rewards with large interest payments. Members First Credit Union of Florida, offers two rewarding Visa® Credit Card options. Each card comes with a fixed rate that is low and competitive, meaning you never have to worry about surprise rate hikes.
Have You Set Up Your Rewards Account So You Can Receive Notices for Special Offers?
Many rewards credit card programs require that you register your credit card on the card's rewards redemption website. Registering your card will not only give you access to redeem your rewards points but will also ensure that you receive notice of special offers that will help you make the most of your rewards like double points opportunities and new rewards features. Don't miss out on earning bonus points when you can by neglecting to register your credit card on the card's rewards redemption site.

---

A rewards credit card can be a powerful addition to your wallet — presenting you with a ton of perks and benefits. If you use your credit card responsibly, you can maximize your points for your upcoming travel plans — whether you're flying the skies or hitting the road.
Headed Out of Town, Have You Notified Members First Credit Union of Your Travel Plans?
If you're going out of the country or out of state, notifying Members Members First Credit Union of your travel plans will help to ensure that your credit card continues working without interruption. Let a financial representative at Members First know the dates you'll be traveling, where you are traveling to, and what stops you'll be making along the way.
Get A Credit Card That Pays
Members First Credit Union of Florida has rewarding Visa® credit card options with low, competitive rates.
Check Out Our Credit Card
Features and Benefits.
Ready to Get Started?
Consult With a MFCUFL
Financial Representative.
Call (850) 434-2211 & Select
Option 2 or Find a Branch
Near You.

---
---
RESOURCES
APR = Annual Percentage Rate. Rates and terms are based on individual credit worthiness. The method of computing finance charges (or interest) for purchases (including new purchase) is based on the Average Daily Balance. Rates are subject to change without notice. For our complete credit card disclosure, click here.
« Return to "Blog"
Go to main navigation