Home
> Planning for Wedding Costs
Planning for Wedding Costs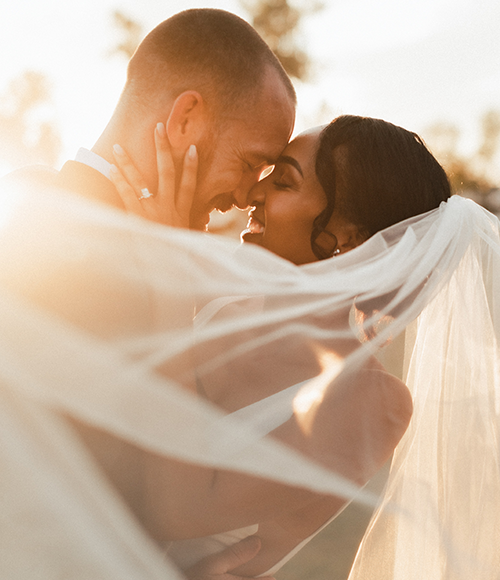 The Budget
Planning a wedding is exciting and fun, but can also be stressful and complicated. Whether you're the bride, groom, or family of the happy couple helping to plan the big day, there can be a multitude of emotions that lead up to the "I do's", including emotions tied to the budget. The amount that you spend on a wedding is a personal decision based on what's important to you, but you should also take into consideration your financial situation. Creating a solid and manageable budget that you are comfortable with is essential to planning your wedding.
According to The Knot, the 2021 national average cost of a wedding is $28,000 ($34,000 including the engagement ring) which was the same as 2019's average wedding cost. In Florida, the average cost of a wedding is $27,000. Keeping those figures in mind, ask yourself a few questions to help gauge where your wedding budget might fall and what's important to you:
How many guests are you planning to have?

Where will your ceremony take place?

Where will your reception take place?

What is the date of your wedding?

Does your wedding date fall on a weekday or weekend?

Is your wedding going to be held during the day or will it be held later in the evening?

Are you serving appetizers or a meal?

Do you plan on hiring a professional photographer, videographer, deejay, etc.?

Are you having a honeymoon?

Who is paying for your wedding? Are family members contributing to the costs or are you and your future spouse taking care of the total cost? If family members are helping, how much are they contributing?
Consider other costs too, like save-the-dates, invitations, rings, attire, flowers, hair and makeup, cake, etc.
Once you have a rough estimate of the total cost of the wedding, divide that number by the number of months until the big day. Doing this will give you an idea of how much you should save monthly to cover the costs of your big day. For example, if your budget is $15,000 and your wedding is a year away, you'll need to save $1,250 per month towards your wedding budget.
Other Options
While putting money away in a savings account towards your wedding budget is the smartest way to pay for the big day, taking out an installment loan is also a good option to consider. Taking out a loan, like Members First's Lifestyle Loan, for the wedding can help ease the stress of pulling large sums of money from your savings — money you may need in case of emergency. It does not mean you can throw caution to the wind — you still need to consider your budget. Considering your day-to-day expenses (rent or mortgage, utilities, transportation, groceries, etc.), ask yourself how much you can comfortably pay monthly towards your loan. You never want to stretch your finances too thinly. Doing so will take the joy from your big day and will only cause problems in the future. If you're unsure or have any questions, speak with a financial representative, so you can find the best option for your needs.
Another thing you might consider is putting wedding expenses on a rewards credit card. Why not earn rewards like cash back or travel perks, while you spend for your wedding? Who knows, you might even earn enough points for plane tickets towards your honeymoon. Remember, the only way putting wedding expenses on your rewards credit card will benefit you is if you can pay the bill in full each month. Maxing out your credit card to pay for the wedding or anything else, is never a good idea.
Ways to Save on Wedding Costs
Your wedding should be fun, and you don't want to start your marriage under mountains of debt. You can still have a great wedding and save money. We're sharing a few ideas to get started:
Cut down on the number of guests

— Invite only your most important loved ones.

Pick a date during the off-season. The typical wedding season is from May - October. Selecting a date outside of that range can mean you'll be spending less on the venue, food, flowers, and more.

Choose a wedding date on a weekday instead of a weekend. Typically, costs are cheaper during the week than they are on the weekend.

Consider having your wedding and reception at an earlier time. Many venues will give you a deal on an "off-hours" reception. A brunch time menu like chicken and waffles is budget-friendly and delicious.

DIY where you can. Stuff like invitations are things that you can DIY easily. If you are worried about not being super crafty, you can browse wedding blogs or online stationary stores for free or inexpensive, customizable invitation templates. Canva is a good example of a site with free and/or affordable customizable templates you can use for invitations. You can also email the invites from the site or download a pdf or image copy of your customized invite to print from home or at a local or online print shop.

Shop dollar store vases or mason jars and use them as centerpieces. You can fill them with floating candles, decorative rocks, branches, pictures, and more to create pretty and inexpensive decor for your wedding. Plus, you can use them around your home later.

Skip the big cake and do small desserts instead. Cupcakes or mini cheesecakes (depending on where they're from) can save you hundreds.

Find a flexible venue. Sometimes booking a venue means using their menu, decorators and other staff, etc. Sometimes this can save you money and other times, it costs more than what you would have spent if you hired your own caterer, etc.

Crowdsource your wedding photos. You know your friends and family are going to take a ton of pictures on your big day. So, why not invite your guests to download a photo sharing app like The Guest from The Knot, to share their photos with you? You'll have all the pictures in one convenient place, plus, you'll get some fun, candid shots of the big day.

Have a simple honeymoon or save it for another time. A staycation or a small road-trip can be just as fun and relaxing as a vacation to the Bahamas. If you don't want to compromise on your dream honeymoon, think about waiting a while, before you head off with your honey to an exotic destination.
---
---
RESOURCES
APR = Annual Percentage Rate. All rates are subject to change. Rates and terms are based on individual credit worthiness. Contact a Call Center Representative at (877) 434-6328 or locally at (850) 434-2211 for complete loan terms.
« Return to "Blog"
Go to main navigation