Home
> Understanding Mortgages
Understanding Mortgages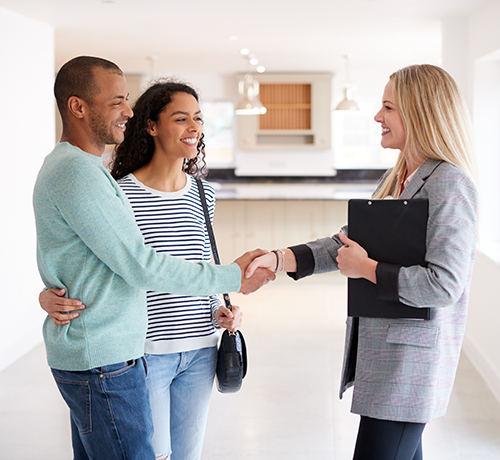 If you're planning to purchase your first home, you've likely come across terms like Closing Costs, PMI, ARM, and Escrow. Figuring out what makes up your mortgage can be confusing and with so many factors to consider, how do you make sense of it all? We'll help by breaking down some of the most common terms and conditions you'll come across during the home-buying process:
About Taxes and Insurance
When you own a home, you'll have to pay taxes and insurance:
Homeowner's insurance is self-explanatory — it protects your home. For example, if a tree falls on it, you'll be covered. The cost of homeowners insurance depends heavily on the provider and the deductible that you choose.
Tax amounts are based on the assessed value of the home. Factors that influence the cost of property taxes include the value of similar properties in the area and the condition of the home. The physical location of the home can also influence the tax rate. Since taxes help fund school districts, infrastructure, and public services, property taxes are in part based on how much revenue is needed to pay for these services in a given area. So, when cities or counties require additional funds, your taxes may increase. Taxes can also vary depending on how you're planning to use the property. Homestead exemption allows a portion of your taxes to be discounted, but this property tax exemption is for primary residences only. If you're purchasing a second property to use as a rental or vacation home, you will not be eligible for this discount.
Because taxes and insurance create added costs on top of your standard principal and interest payment, it's important to consider them when you're working on a mortgage budget. And, depending on your mortgage, you may be required to escrow these costs into your overall mortgage payment.
What's Escrow?
An escrow is a type of account that budgets your taxes and insurance costs into monthly averages and is tied directly to your mortgage.
For example: If your annual insurance premium is $500 and your total taxes are $4,000, your monthly escrow payment would be $375 ($4,500 ÷ 12 months = $375).
Your monthly escrow payment is added to your mortgage payment and placed in an escrow account. When the taxes or insurance are due, your escrow automatically disburses the funds to the payees. Most mortgages require an escrow if your loan to value (LTV) is 80% or higher.
What is Loan to Value (LTV)?
Loan to value or LTV measures the amount of your mortgage compared with the appraised value of the property.
For example: If you have an $80,000 mortgage on a home worth $100,000, your LTV will be 80%
Your LTV can impact what mortgage program you qualify for and also determine whether you need Private Mortgage Insurance (PMI), an escrow, and more.
About Private Mortgage Insurance (PMI)
Private Mortgage Insurance, commonly known as PMI, is a type of insurance that helps the lender recover their investment if you stop making payments to your mortgage and face foreclosure. PMI is generally required for mortgages with an LTV over 80% and adds an additional cost to your escrow. PMI is arranged by the lender and provided by a private insurance company.
PMI can help you qualify for a loan you would not otherwise qualify for. However, it increases the cost of the loan, so you must consider your personal budget to make sure you aren't buying more house than you can afford in the short and long term.
About the Down Payment
You've likely heard of Down Payments before. The down payment is the amount you pay up-front on your home. Your down payment can help determine your LTV, the need for an escrow, or PMI. How much you put down on your home is dependent on your savings budget and/or mortgage program. Some programs may not require you to make a down payment, but others may require 5% down or more.
About Closing Costs
Closing costs include a number of items:
Origination Fees
Title and Settlement Fees
Taxes
Homeowner's Insurance
Homeowner's Association (HOA) Fees
Attorney Costs
Closing costs can be a lot, generally 2% - 5% of the total cost of your loan. You may be able to negotiate payment of closing costs with the seller, but since this is not guaranteed, you should set funds aside and budget for closing costs.
What's the Difference Between Fixed and ARM?
A fixed rate mortgage means that your interest rate is set when you take out the loan and will not change.
Also known as a variable-rate mortgage, an Adjustable Rate Mortgage (ARM) can see fluctuations in your interest rate over time. ARMs typically feature lower initial interest rates, but after the initial period is over the rate may adjust up or down for the next rate period, this can result in changes in your payment. The amount and frequency of these changes are determined by the terms of the specific mortgage program.
There are pros and cons to each type of program, so we suggest speaking with a financial representative to help determine which option is best for you.
What Are Floors, Ceilings, Caps, and Margins?
You may have heard these terms or noticed them on a rate sheet, but what do they mean? Floors, ceilings, caps, and margins are used to determine an ARM's rate changes.
Floor: the lowest rate you can go
Ceiling: the highest your rate can adjust — also known as the "lifetime cap"
Adjustment Caps: a limit on how much your rate can change during one adjustment period
Margin: the number added to the index (a benchmark interest rate that reflects general market conditions) at the time of the adjustment, determining your new rate
What Are Points?
Points, also know as discount points, lower your interest rate in exchange for paying an upfront fee. Points are calculated in relation to the loan amount. Each point is equal to 1% of the loan amount.
For example: One point on a $100,000 loan would be 1% of the loan amount, or $1,000. Two points would be 2% of the loan amount, or $2,000. Points do not have to be round numbers – you can pay 1.375 points ($1,375), 0.5 points ($500), or even 0.125 points ($125).
Points are paid at closing and increase your closing costs.
---
Having a home is a big investment. Doing your research ahead of time will help to insure you're ready to be a homeowner and aid in making the home-buying process go as smoothly as possible.
Learn About Our Home Loan Programs or Contact Us Today!
If you have any questions, speak with a knowledgeable financial representative in our loan or mortgage department when you call (850) 434-2211 and select option 2. You can also email us or stop by a Members First Credit Union of Florida branch location near you.
---
---
RESOURCES
APR = Annual Percentage Rate. All loans are subject to credit approval. Rates and terms are based on individual credit worthiness. Terms and conditions apply. NCUA Insured. Equal Housing Lender. NMLS# 405711.

« Return to "Blog"
Go to main navigation