Home
> Tips to Become a Smarter Car Buyer
Tips to Become a Smarter Car Buyer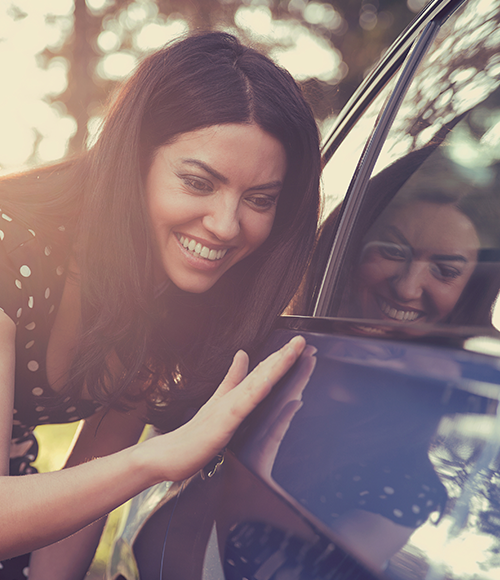 Buying a new car is a big decision and the last thing you want is to have buyer's remorse after such a large purchase. To make sure that you choose the right car for you with the right terms, we're sharing a few tips so you can avoid some common car-buying mistakes.
1. Before you start shopping, decide on what type of car you want and do your research.
Choose a car that will best suit your lifestyle and price range. Then, narrow down your search to a few different makes and models. Get the Vehicle Identification Number (VIN) of the vehicle(s) you are considering and do a search online to compare prices and vehicle information. Get free reviews and owner ratings on just about every vehicle on websites like NADA, Kelley Blue Book, Cars.com, and AutoSmart, so you can feel confident about your auto purchase. Members First Credit Union of Florida's partnership with AutoSmart also allows you to shop local dealer inventory with ease and finance with us.
2. Check your credit before you shop.
Check your credit before you start to shop. Your credit score plays a significant role in determining your eligibility for a loan and the interest rate of the loan you qualify for. Knowing the state of your credit before you start shopping gives you time to fix any errors or inaccurate information you may find. You can get a free copy of your credit report annually from each of the three major credit bureaus (Experian, Equifax, and Transunion) at annualcreditreport.com.
Taking out a loan to finance your new car will cause your credit score to drop a bit. Don't worry, this is normal. You can build back your credit quickly by making regular, timely payments on your new auto loan.
3. Negotiate the price of your vehicle.
Even for an experienced car-buyer, negotiating on price can be nerve-racking — remember that sometimes it's better to say too little than too much. Although it's important for you to be aware of what you can afford each month, don't be too quick to share that information with a salesperson. Doing so too early could take away any leverage you have to negotiate.
4. Don't agree to dealer financing too quickly.
Accepting financing at the dealership is easy and may at times be your best option. But do you know for sure that you're getting the best deal for you? Before signing on the dotted line, take a step back and take the time to review the terms and conditions associated with your financing so you understand them. Share dealer terms with your credit union or financial institution and see what they can offer or match. Often times your credit union can save you money on financing and auto loan protection like GAP, Insurance, and Extended Warranty. Plus, your credit union will work closely with you to make sure that you aren't biting off more than you can chew with your new car purchase.
5. If you can afford it, take the shortest loan term.
While a shorter loan term requires you to pay more on your new car each month, it could save you hundreds or even thousands of dollars in interest. Putting more money down or having a trade-in can also help with lowering your monthly payments. Also, because cars depreciate quickly, taking out a shorter-term loan keeps you on track to pay off your vehicle and lets you enjoy it before it wears out. Speak with a financial representative in the loan department to see what kind of payment options are available to you and best fit your needs.
6. Do the math.
When you're comparing offers, do the math for each scenario before making your final decision. Comb through offers to make sure that you aren't overlooking hidden fees or negative terms and conditions. Use our auto loan calculators to give you a better understanding of how much you'll be spending on your new vehicle or speak with a credit union representative in our loan department. Call (850) 434-2211 and select option 2 or email us.
7. Limit vehicle add-ons.
There is no denying that add-ons make a car look and feel shiny and pretty. However, add-ons can quickly weigh down your loan and end up costing more than they are worth. So, while it may be tempting to drive off the lot with a souped-up new ride, wait to add features like upgraded rims and accessories. Most add-ons can be added to your vehicle at a later-date and doing them little by little, on your own, is usually a better financial decision.
8. Be willing to walk away from a deal.
Just because an offer has been made does not mean that you must take it. You always have the option to negotiate for more favorable terms. Know what you want to spend beforehand and stick to it. If the seller doesn't want to meet your price, be prepared to walk away on good terms, and let the dealer know that they can contact you if they're willing to negotiate further in the future. Remember that at the end of the day, you're the one who decides what terms and price you end up with.
9. Remember to add all the figures.
Don't underestimate the total cost of owning a vehicle. Once you've found the right vehicle for you, it's easy to let your emotions take over and forget about the true cost of owning a car. Your vehicle's monthly payment isn't the only thing that you have to think about. Remember to budget for ongoing costs like insurance, gas, taxes, and maintenance. Do your research ahead of time and factor these costs into your calculations. Start an emergency fund or secondary savings account to save up for unexpected expenses like auto repairs.
Ready to Get On the Road?
We'll lend a helping hand with putting you in the right vehicle to get wherever you're going.
Check Out Our Auto Loan
Resources for Rates,
Rewards, & More.
Ready to get started?
Consult With a MFCUFL
Financial Representative.
Call (850) 434-2211 & Select
Option 2 or Find a Branch
Near You.
---
---
RESOURCES
Rates, terms, and conditions are subject to change and may vary based on credit worthiness, qualifications, collateral age, and conditions. The APR will be disclosed prior to an advance being made on a loan.

« Return to "Blog"
Go to main navigation