Home
> Maximize Your Visa® Credit Card Rewards
Maximize Your Visa® Credit Card Rewards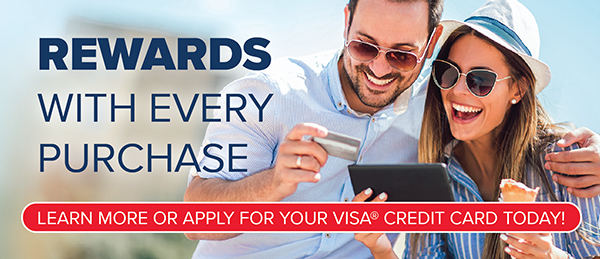 Having a rewards credit card is great, but knowing how to maximize the rewards you earn from using your credit card is even better. Below are a few secrets to be sure that you're getting the most out of your Members First Visa® credit card:
Make your Members First Visa® credit card your default payment method on Apple Pay, Android Pay, Samsung Pay, or Visa Checkout.
Register your Members First Visa® credit card and keep track of your rewards at scorecardrewards.com.
Take advantage of the shopping bonuses, like double points at select retailers, that are found on scorecardrewards.com.
Consider using just one rewards card, like your Members First Visa® credit card, for all your purchases. It's one way to simplify your spending habits and earn rewards quickly. And, if you pay your card off each month you can avoid interest charges.
Be Disciplined — If you don't pay off your credit card balance in full each month, be careful with your spending. Don't go in debt for extra rewards. Like with any credit, don't borrow more than you can pay off.
Don't have a credit card with us? Apply online today, call 850-434-2211, or stop by one of our branch locations.
learn about our visa rewards credit cards | apply for a visa rewards credit card today!
---
« Return to "Blog"
Go to main navigation