Home
> Boats: Things to Consider Before You Shop
Boats: Things to Consider Before You Shop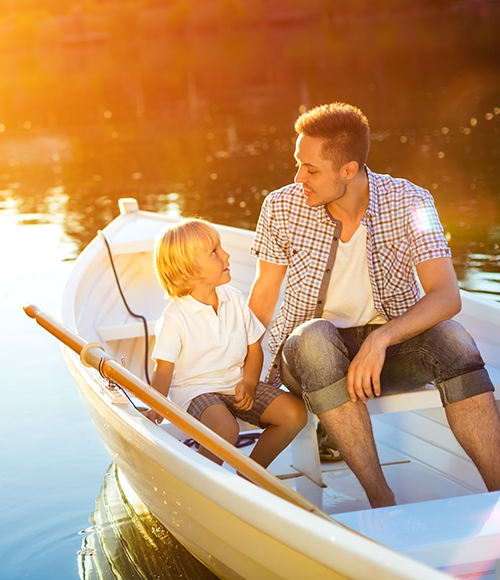 Is adventure calling? Do you dream of coasting lazily along the water, enjoying the sun and sea, fishing trips on the river, or water skiing on the lake? Purchasing a boat may just be in your future, but here's a few things to consider before you shop.
What type of boat do you want?
From sailboats, freshwater fishing boats, speedboats, canoes, and yachts, there are so many boat types to choose from. Ask yourself what you want to do with your boat. Whether you plan to use your boat for a few hours alone fishing, entertaining friends and family on the weekend, or as a home away from home on the water, take the time to research different types of boats to find the right fit for you and your lifestyle.
Where will you store your boat?
Housing a boat can be a huge expense. The larger the vessel, the more truck or trailer power you'll need when transporting your boat. Plus, you'll need more space to store it. This could mean renting a space to keep your boat when you're not using it or obtaining special permits and professional help to move it.
Do you have time for a boat?
The idea of owning a boat is enticing — being able to enjoy the water on your terms. But, before you commit, you should think about how much time you'll really have to use it. You'll also want to think about the time it takes to maintain a boat. If you don't have the time and energy to make the most owning a boat, then you may want to consider renting a vessel instead.
Can you afford it?
Once you've considered the type of boat you want, where you'll store the boat, and if you'll have time for a boat, ask yourself if owning a boat is something you can afford. Prices can vary depending on the type of boat you want — from a couple hundred dollars for a small dinghy to hundreds of thousands of dollars for a yacht. Plus, you'll want to budget for expenses beyond the purchase price like title, insurance fees, tags, and safety gear. You'll also want to budget for ongoing expenses like repairs, maintenance, fuel, taxes, and storage fees. If you're looking into buying a used boat, you should seriously consider getting the boat surveyed by a reputable marine surveyor, so you know what you're getting, which is another added cost.
How will you pay for a boat?
Once you've figured out the type of boat you want to match your lifestyle and crunched the numbers, you'll want to determine how you'll pay for your new watercraft. You can:
Purchase your boat outright with cash or check. If you've amassed a solid savings with wiggle room for any emergencies that may arise, purchasing a boat outright is a great option.

Finance all or a part of the boat's costs. To finance the cost of your new watercraft, you'll want to make sure your credit is in order. The higher your credit score is, the more likely you are to get a better rate. Consult with a financial representative at your credit union or order a free credit report.


Tip:

You're entitled to a free copy of your credit report from each major credit bureau —

Equifax

,

Experian

, and

TransUnion

— once every twelve months.


If your score isn't what you want it to be, consider taking the time to improve your score before purchasing a boat. Research loan rates and speak with a financial representative before you go to the dealership or talk with a private seller. Financing through a credit union like Members First Credit Union of Florida beforehand will put you in a better position to bargain.

Trade in an old vessel for a new one and pay for or finance the difference in value. If you currently have an old boat, choosing to trade it in is a good way to offset some of the cost of your new vessel.
Unless you're rolling in the dough, you'll most likely be financing your boat-owning dreams. And, even if you may have the cash to buy a boat outright, it may be more beneficial for you to finance it. When you're ready to shop, consider financing first. Financing first will put you in a better position to shop where you want and negotiate the overall cost of the vessel, instead of shopping to fit your monthly payment needs.
Also, consider where you finance. Because credit unions are nonprofit, community-minded organizations who work to serve their members, you'll not only get more personable service but, you'll also enjoy the benefit of:
If you're buying from a dealership, they'll likely have a variety of financing options available. But, their loans usually come with above-average interest rates and tons of expensive fees. Similarly, financing at a bank typically also means you'll be paying more in interest, warranty, and fees.
We'll Lend a Helping Hand
When you're ready to set sail, we'll be here to lend a helping hand with your questions and financing needs.
Explore Financing
Options for Boat,
Motorcycle, & RVs.
Ready to get started?
Consult With a MFCUFL
Financial Representative.
Call (850) 434-2211 & Select
Option 2 or Find a Branch
Near You.
---
---
RESOURCES
The annual percentage rate (APR) you pay will be based on the number of months your loan is financed, the loan type, and your credit history. The APR will be disclosed prior to an advance being made on a loan. Rates are subject to change. Loan terms may vary based on value and type of collateral.

« Return to "Blog"
Go to main navigation