Home
> 5 Reasons to Take Advantage of a Balance Transfer
5 Reasons to Take Advantage of a Balance Transfer
What is a Balance Transfer?
A balance transfer means moving all or part of your debt from one or more credit cards or other loan types to another credit card account. It's important to realize that you are not actually paying off debt when you initiate a balance transfer, you are just simply transferring the balance to another card. In that case, what makes balance transfers so special and why might a balance transfer be right for you?
Below are five benefits to transferring your high-interest balances:
1. Take advantage of a lower interest rate.
Credit unions and other financial institutions will often offer low-interest balance transfer specials. If you are currently carrying a high balance on a credit card with a high interest rate, taking advantage of a balance transfer to move your high-interest balance to a lower interest card can be a big benefit. It's a great way to pay down your debt quickly by lowering the total amount you're paying in interest. You can also focus on tackling more of the debt balance each month.
It's important to note, if you are taking advantage of a balance transfer special or promotion to be aware of the details. Special promotional balance transfer rates almost always expire and it's ideal to have your balance paid off before the promotional period ends because any remaining balance is subject to the standard interest rate of the card after the special ends. So, it's also important to choose a credit card with a lower standard interest rate.
2. To consolidate debt.
Are you overwhelmed with multiple monthly credit card payments? A credit card balance transfer lets you consolidate the multiple balances to one card. It's a great way to simply your finances and pay off your debt more effectively.
Balance transfers can also be used to consolidate other types of debt, but do your homework and talk to a knowledgeable financial representative to make sure you're getting the best deal and won't be paying more in interest when you consolidate those other types of debt.
3. To move to a credit card with better terms.
In addition to a higher interest rate, your current credit card(s) might have higher fees, a shorter grace period, and other terms that don't work for you. Taking the time to find a credit card that is the best fit for you and your financial needs can pay off with better terms and other perks like rewards.
4. As a way to get out of debt faster.
Getting out of debt quicker is one of the reasons that most people take advantage of credit card balance transfers. They look at the benefit of getting a lower interest rate as giving them the extra savings they need to pay off credit card balances faster. While a balance transfer is a great tool to help you achieve your goal of getting out of debt quicker, if you don't practice restraint, you can be at risk of getting more into debt. Pay down your balance and avoid the temptation of charging up the balances on the credit cards that you paid off with your balance transfer so you can achieve your goals and avoid getting deeper into debt.
5. To get a card with rewards and other perks.
Getting a credit card that gives you rewards like cash back, travel rewards, and other perks or discounts can be a great benefit of a balance transfer, especially if you plan to use the credit card as your primary means of payment once you pay off the balance from the balance transfer. Remember, if you are using a credit card as a primary means of payment, pay your statement balance in full to avoid getting into debt and to make the most of your credit card rewards.
If you're looking for a credit card with rewards, Members First Credit Union of Florida offers rewarding credit card options with low, competitive rates.
Is a Balance Transfer on Your To-do List?
We'll lend a helping hand with this limited time offer: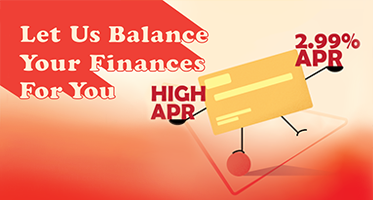 Stop Weighing Your Options
Balance Your Finances With Our Limited Time
2.99% APR*
Balance Transfer Offer.
*APR = Annual Percentage Rate. 2.99% Annual Percentage Rate for the first 6 billing cycles on balance transfer, after 6 billing cycles card balance will revert to standard card rate. Additional limitations, terms, and conditions may apply. Availability of offer based on credithworthiness. Please contact a Members First Credit Union of Florida representative for specific terms and conditions. Offer expires 12/31/2022.
---
« Return to "Blog"
Go to main navigation